Never Do Fundraising Again
A Paradigm Shift from Donors to Lifelong Partners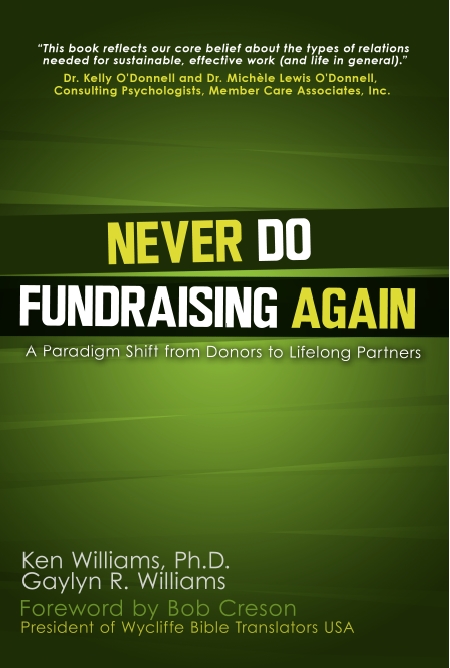 Imagine Never Having to Raise Support Again!
In this practical, biblical course you will discover how to:
Transform the stress and drudgery of fundraising into a joyful ministry
Utilize proven strategies to spend less time, effort and money to maintain full support
Cultivate life-long ministry partners and close friends
Convert one time gifts into lifetime support
Inspire your partners to become your best recruiters for more support
Enjoy freedom from worry about your financial needs
Never Do Fundraising Again contains proven strategies and skills for building and maintaining your support. It is filled with powerful stories from the author's lives and others who are using the biblical principles.
This course is based on the book written by Ken and Gaylyn Williams, a father-daughter team with over 85 years' experience (combined) as supported missionaries. Gaylyn, as well as Ken and his wife Bobbie, served with Wycliffe Bible Translators. Learn more about the authors.
Each lesson includes a video, practical assignments, a forum where you can interact with other students, a chapter from the book and more.
Cost is normally $50, but for a limited time it is $25.
This course is available for four Continuing Education Units (CEUs). Click here to pay for CEU's.