All Stressed up and Everywhere to Go!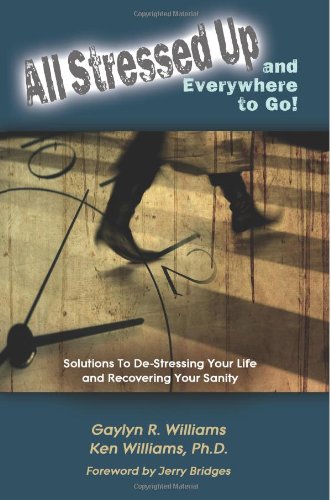 Do you need to de-stress your life?
Consider the following questions:
Are you experiencing physical, emotional or relational symptoms that are a direct result of being over-stressed? Do you know what those symptoms are?
Could your perception of your situation be affecting your stress levels?
Would you like to discover new resources to help you manage your stress?
Do you ever feel like you are going crazy because you are so overwhelmed by life?
What if you could find some simple yet powerful ways to de-stress your life? Would they be worth trying?
If you answered yes to any of these questions, we challenge you to take control of your life! In this practical class, we'll answer these questions and more.You'll discover biblical, proven strategies to help you embrace a balanced, victorious life. People of all ages and situations experience stress, but it doesn't have to get you down. In fact, stress can actually improve your life!
Discover simple, yet amazing ways to make stress work for you - not against you. In this class you will learn about stress and how it can affect your life. You will also practice six key stress management skills that will empower you to de-stress your life today and in the future. You will then work through ways to keep balance in your life, so you can keep from getting too overwhelmed.
The biblical principles in this course have been taught worldwide to over 30,000 people in 80+ countries over the last twenty-five years. And now they are available to you! See what other's are saying about the book that this course is based on.
What this online workshop includes:
Introductory videos for each lesson with Gaylyn Williams
Practical assignments

to help you practice each skill, working through your stress

Self-assessments to discover how you are managing your stress and how close to burnout you may be
Bible studies to discover more biblical principles

A forum where you can interact with other students

Chapters from the book All Stressed Up and Everywhere to Go in PDF
A discount code to buy a copy of All Stressed Up and Everywhere to Go
and more
Check out the Course Syllabus for more information.
This course is based on the book written by Ken and Gaylyn Williams, a father-daughter team with over 85 years' experience (combined) as supported missionaries. Gaylyn, as well as Ken and his wife Bobbie, served with Wycliffe Bible Translators.
Ken, who is now with Jesus, had a PhD in Human Behavior, served with Wycliffe Bible Translators for 53 years and founded International Training Partners, training Christian workers around the world. Gaylyn is the executive director of Relationship Resources, author of twenty-four books, and a dynamic inspirational and motivational speaker. She lives in Colorado Springs, CO.
Learn more about Ken and Gaylyn, plus this and other books at RelationshipResources.org.
Cost is normally $50, however it is only $10 for the first 25 people who register.
This course is available for four Continuing Education Units (CEUs). Click here to pay for CEU's.